Trinity Forest Adventure Park @ The Southern Cross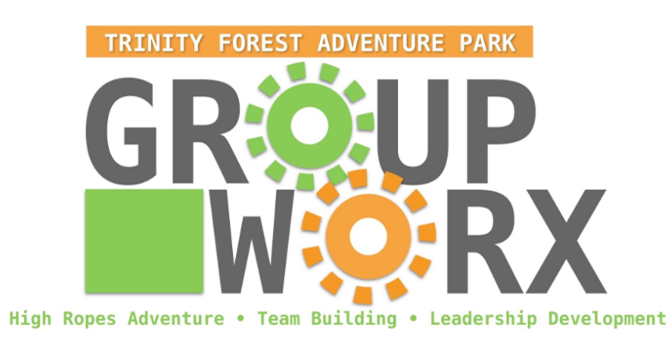 It's all fun and games... And hard work!
The certified staff of Trinity Forest Adventure Park and our unique GroupWorx program are devoted to giving your team, department, or associates a unique team building experience suited to achieving the goals you've set for yourselves. Whether you'd like to develop certain leadership skills or simply grow as a team, we will tailor your challenges and customize a package for you to maximize your experience.
We look forward to working with you!
We made the list of TOP team building spots in the DFW area. Check it out!
https://teambuilding.com/blog/team-building-dallas-tx
The objectives of your session are to:
- Work toward achieving the goals/improving upon the skills you've defined
- Provide opportunities for associates to learn something new and recognize individual strengths in each other
- Create unique opportunities to build trust with each other
- Collaborate and compete
- Implement lasting positive change
- Learn from each other and grow together as a team
- And have some fun outside of the office or classroom!
Participants should arrive for their team building session eager and optimistic. We will encourage you all to keep your energy high and your mind open as you work together in this unfamiliar environment. You are likely comfortable in your routine interaction, but we will ask you to step outside of your comfort zone and challenge yourselves to expand your personal and professional relationships.
Trinity Forest Adventure Park is a "Challenge by Choice" environment—while we will challenge you and your teammates to try something new, we will not push guests to do more than they are willing to do.
From Our Fans:
"D&J Empowerment Group just recently did our Youth Impact Event at Trinity Forest Adventure Park and it was amazing! Their team building activities are top notch. It opened a lot of the kids that attended eyes and gave them a new way to think about their choices and decision making. Showed them that in life we have to take risks to achieve our dreams and goals, better ways to communicate, and pushed them out of their comfort zones!! I love this place." - Durale, Facebook
"Great use of time; never bored - everything flowed well and Alex kept the content upbeat and happy." - Anonymous, SurveyMonkey
"It was so empowering! I felt proud of myself and what my body could do." - Lauren, email
"Great way to spend couple of hours being active. Offers different level to cater to a wider range. Can't wait to go back. Great place for family and corporate events." - Dia, Yelp
"Seriously the best team building event I've ever been a part of. The staff was great, very professional, and it was so much fun. The food was really good. I loved the facility. Our staff has been talking about the experience all week. I can't wait to go back with my family!" - Dusty, Facebook
"We loved our Girl Scout experience! The staff was fun and attentive!" - Suzanne, Bookeo
"This place is definitely a hidden gem." - BNJGreer, TripAdvisor
"I think the team building aspect was very beneficial. The event space was great. Felt very well kept. Alex was wonderful in leading the group through the activities." - Anonymous, SurveyMonkey
"Oh my fish sticks you guys rock!" - Kelsie, Bookeo